Alumni News >
CMUL PT Alumnus, Abiodun Akinwuntan is Professor & Dean, School of Health Professions at the University of Kansas Medical Center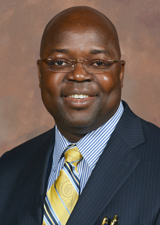 Kansas City, KS: October 22, 2015 - Source, KU Medical Center News
The CMUL Physical Therapy Alumni USA Inc., is extremely proud and happy to announce that our colleague and fellow alumnus,
Dr. Abiodun Emmanuel Akinwuntan
of the Georgia Regents University (GRU, formerly Medical College of Georgia), Augusta, Georgia, USA has been appointed Professor & Dean of the University of Kansas School of Health Professions. Professor Akinwuntan was chosen out of a very competitive pool of eminently qalified candidates for the position.
"I am pleased to have a highly respected educator, clinician and researcher like Dr. Akinwuntan joining the University of Kansas as dean of the School of Health Professions," said University of Kansas Chancellor
Bernadette Gray-Little, Ph.D.
"His research expertise addresses one of the most formidable medical challenges of our time by helping people live with neurological impairment, which aligns with KU's mission to build healthy communities."
"Dr. Akinwuntan brings with him a rich history of international experience and training," said Douglas A. Girod, M.D., executive vice chancellor for the University of Kansas Medical Center. "He has experienced success as highly collaborative researcher within various departments and schools, and we look forward to benefitting from his unique skill set at the medical center."
Akinwuntan received the 2013-14 U.S. Fulbright Scholarship Award. He was named to the Fulbright Specialist Roster in February 2015 and selected in July 2015 to serve as a member of the four-person peer review committee for all Fulbright grant applications to West and Central Africa.
In accepting the position, "I consider it a privilege to become a part of the legacy of the School of Health Professions, which has many programs that are recognized nationally and internationally," said Akinwuntan. "My interactions with the faculty and staff of the school during the interview process convinced me that I will be working with a vibrant and successful team. I look forward to working with the team and those of the Schools of Medicine and Nursing at the University of Kansas Medical Center."
Prof. Akinwuntan is renowned nationally (USA) and internationally for his expertise in driving assessment and rehabilitation after neurologic lesions. Prof. Akinwuntan's unique body of work consistently attracts attention (See
PhysioPodcast
section for some of the news clips on Prof. Akinwuntan's laboratory) and has seen him appointed to many prestigious bodies including the US National Transportation Board's Committee on Simulation and Measurement of Vehicle and Operator Performance and the US Federal Motor Carrier Safety Administration expert panel on strokes and commercial truck driving.
Prof. Akinwuntan is a 1994 graduate of the College of Medicine, University of Lagos (CMUL) BSc Physiotherapy program. He bagged his MSc and PhD in Neurological Rehabilitation in 2000 and 2004 respectively from the Department of Rehabilitation Sciences, Katholieke Universiteit Leuven, Belgium. He was appointed as a Senior Lecturer in 2004 at the School of Health and Bioscience, University of East London, United Kingdom from where he joined GRU in 2005 as an Assistant Professor. He was promoted to the rank of a tenured Associate Professor in 2010, and appointed Interim Dean for Research in 2012. He was confirmed as the substantive Associate Dean for Research in the College of Allied Health Sciences in 2014. Prof. Akinwuntan was a US Fulbright Scholar to the University of Lagos in 2013/2014, where he contributed immensely to several areas of research at the CMUL. A major highlight of Prof Akinwuntan's successful Fulbright program at CMUL is the initiation of a collaborative BPT/DPT degree program between the CMUL and GRU. In this program, beginning in the Fall of 2016, three 3rd year physiotherapy students from the CMUL will have the unique opportunity to travel to GRU to complete a 3 year DPT program, and then return to CMUL in their last semester to earn the BPT. It is hoped that this innovative joint collaborative program between GRU and CMUL will further improve the quality of the pool of applicants to the physiotherapy program at the University of Lagos and increase the number Nigerian physiotherapists with DPT degrees. Currently, Nigerian physiotherapists are able to obtain a transitional DPT degree through the University of Michigan-Flint. Prof. Akinwuntan is a well published researcher with more than thirty-five (>40) peer-reviewed publications, mostly in high impact Journals.
Prof. Akinwuntan's quick rise in the academia has been followed with keen interest by the CMUL Physical Therapy Alumni USA Inc., and colleagues from around the world and has become a source of inspiration to the younger generation of Nigerian educated Physiotherapists. We all rejoice with Prof. Akinwuntan and his family for this wonderful achievement. Prof. Akinwuntan can be reached at:
aakinwuntan@kumc.edu
.
Congratulations Alumnus,Professor & Dean Abiodun Emmanuel Akinwuntan!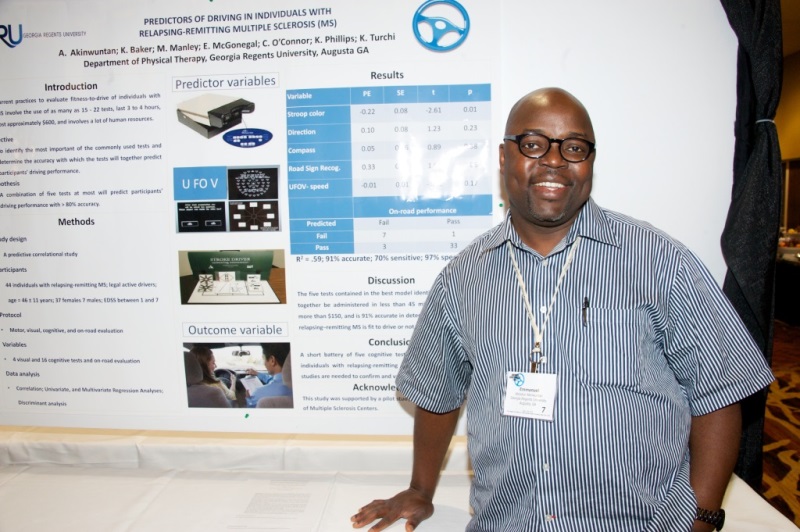 Emmanuel B. John, PT, DPT, PhD
,
MBA
Director of Communications
CMUL Physical Therapy Alumni USA Inc.,
Published
22:18:00 27.08.2016